Emerging markets are sometimes defined as jurisdictions in which politics matter as much if not more than economics. There is a greater overlap between the private and public sector in emerging markets than there is in developed markets. State-owned enterprises, or SOEs, are companies where the government has significant control through a majority ownership, or a significant minority ownership of the equity. Typically, they have significant board representation and other ways of influencing the company. Overall, SOEs comprise 25-30% of emerging market capitalization, according to the Financial Times. If you invest in one of the major broad emerging market ETFs such as the iShares MSCI Emerging Markets ETF (EEM), you are inevitably getting a large allocation to state-owned enterprises. Yet there is an alternative choice offering a potentially better allocation.
WisdomTree Emerging Markets Ex SOE Fund (XSOE) is unique in that it offers broad emerging market exposure, but avoids investing in any company where the government owns more than 20%. This unique approach has led to a track record of capitalizing on the best emerging market growth opportunities and avoiding many of the pitfalls. Going forward, it will likely be able to compound its advantages and outperform by an even wider margin.
The advantages of avoiding SOEs
Private companies have better incentives than SOEs. Well-run private companies need to maximize shareholder value. SOEs take into account a broader set of interests such as employment or social stability. Additionally, corruption and conflicts of interest are a major problem. Often SOEs become large, inefficient businesses.
Financial metrics confirm that these incentives really impact returns. Non-SOE companies earn better return on assets than SOEs, as the following chart shows.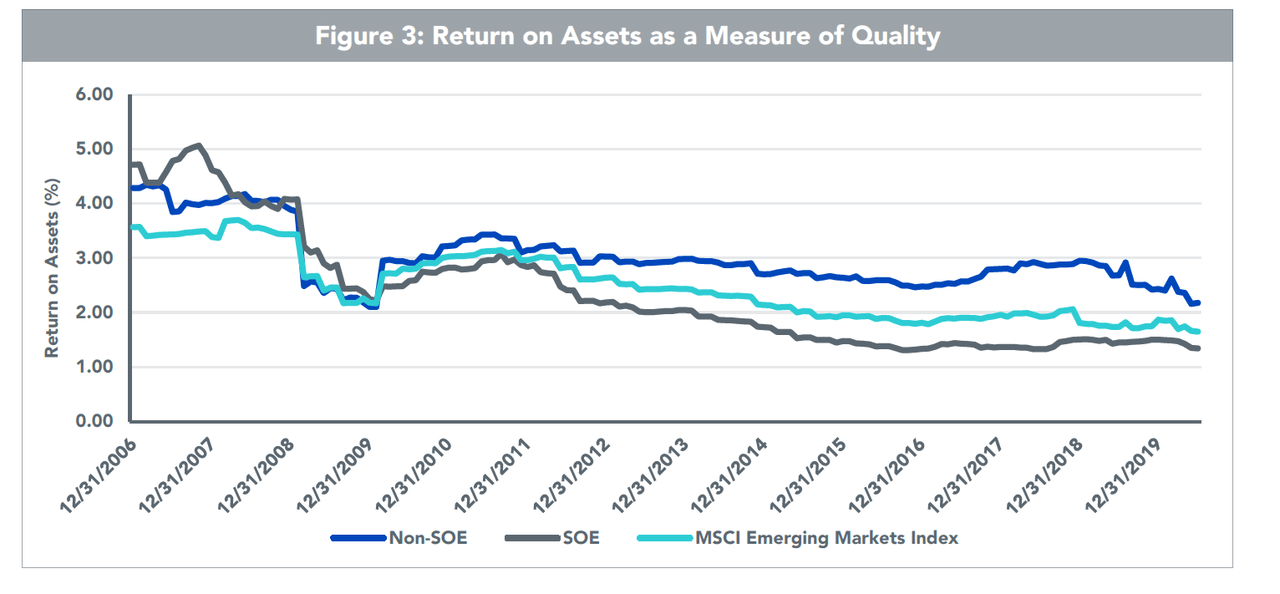 Source: WisdomTree
Even though SOEs theoretically have capital raising advantages in countries where the banking sector is state-controlled, it doesn't lead to efficient use of leverage. As the following chart shows, non-SOEs also earn higher returns on equity than SOEs.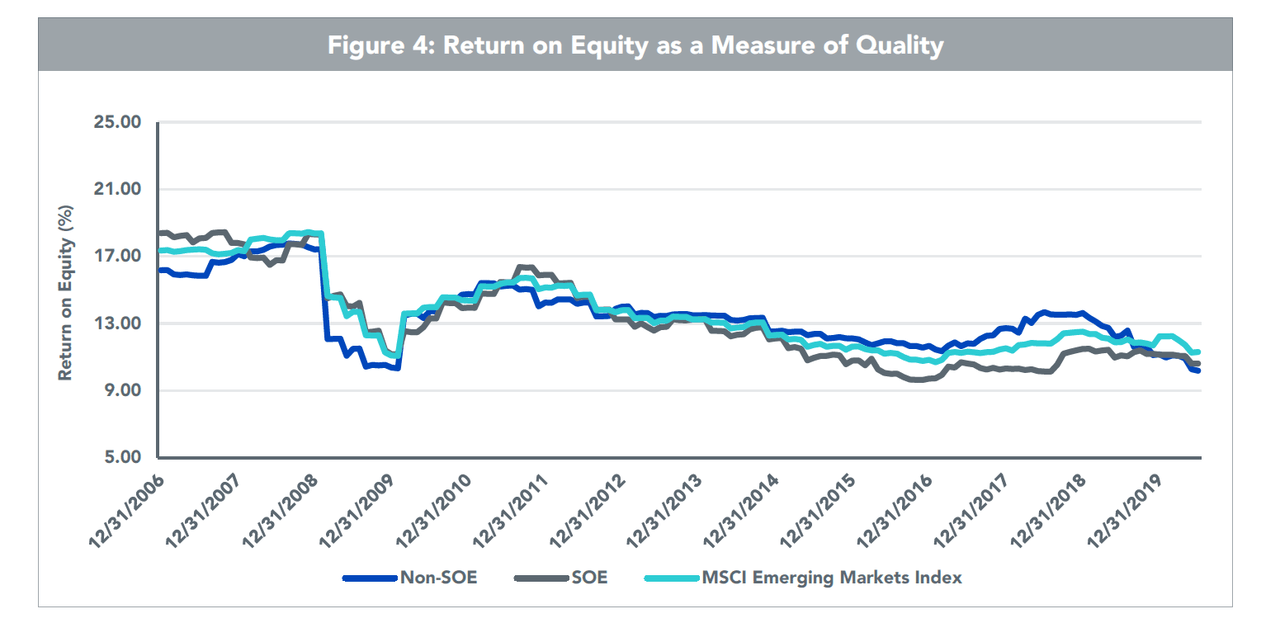 Source: WisdomTree
According to the Financial Times, approximately 74% of SOEs are in "Old Economy" industries such as energy, financials, materials, real estate, and materials). These businesses tend to earn lower returns. Non-SOE companies are almost the perfect mirror image: 73% are in "New Economy" businesses, such as technology, communications, and consumer discretionary. These businesses are growing faster and tend to have better returns on capital.
Better incentives, combined with better sector allocation, translate directly into stock market performance, as a recent article from the Financial Times confirmed: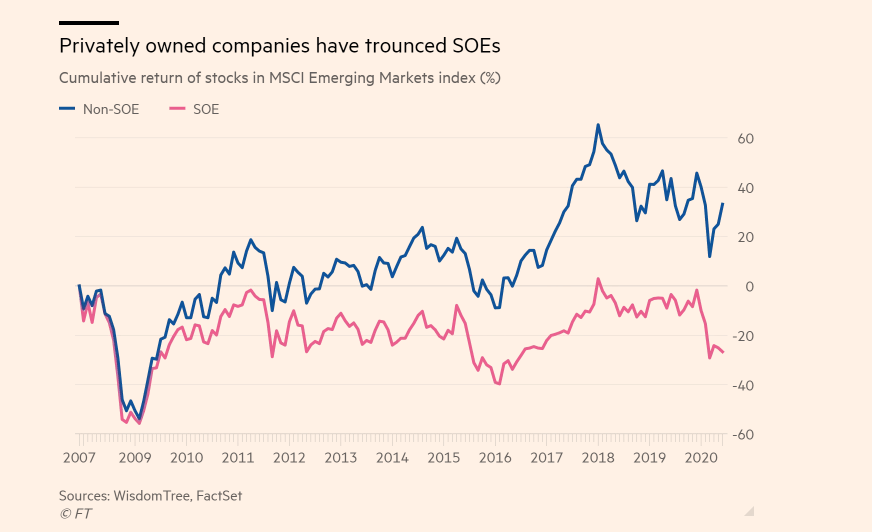 Source: Financial Times
Of course, not all SOEs are bad. There are a handful of exceptions – SOEs that provide pay manager competitively and avoid corruption. The Financial Times highlighted Bank Rakyat Indonesia as an example. It might make sense to buy a few individual SOE companies abroad, after analyzing the governance structure, management credibility, and other qualitative factors in addition to financial metrics. However, when taking a top-down approach with ETFs, the case for avoiding them is strong.
Portfolio
At first glance, XSOE seems very similar to EEM. They have several top holdings in common, although, in each case, XSOE has a larger weighting, reflecting its concentration in the technology sector.
This table shows the top holdings of XSOE and EEM.
| | | |
| --- | --- | --- |
| Collected – Top Holdings | XSOE Weighting | EEM Weighting |
| ALIBABA GROUP HOLDING ADR REP 8 ORD | 9.6% | 8.2% |
| TENCENT ORD | 8.7% | 6.0% |
| TWN SEMICON MAN ORD | 5.0% | 5.5% |
| SAMSUNG ELECTR ORD | 4.0% | 3.3% |
| MEITUAN-W ORD | 2.3% | 1.8% |
| NASPERS N ORD | 1.5% | 1.2% |
Source: Refinitiv
However, when you look at the broader portfolio, there are a couple of subtle differences that contribute to better long run performance. XSOE has a higher weighting of technology, healthcare, and businesses that sell to consumers (both cyclical and non-cyclical). Additionally, it has a lower weighting of banks, which often earn lower returns on equity in emerging markets. Moreover, it completely avoids the state-owned banks, which are notorious for having problem loans and low shareholder returns.
This table shows the industry weightings of XSOE and EEM.
| | | |
| --- | --- | --- |
| Collected – Industry Sector | XSOE Weight | EEM Weight |
| TECHNOLOGY | 45% | 38% |
| FINANCIALS | 15% | 20% |
| CONSUMER CYCLICALS | 10% | 7% |
| CONSUMER NON-CYCLICALS | 7% | 6% |
| BASIC MATERIALS | 6% | 7% |
| HEALTHCARE | 5% | 4% |
Source: Refinitiv
XSOE also has a lot of similarities to Emerging Markets Internet & Ecommerce ETF (NYSEARCA:EMQQ), which I've written about before. EMQQ is a pure technology and consumer play. XSOE provides broader emerging market exposure, including businesses that are primarily B2B, or emerging market local champions that get more revenue abroad. I view the two funds as complements in an emerging market allocation.
XSOE Performance
Technology and consumer sectors have been the key drivers of broader emerging market performance in recent years. Consequently, it's no surprise that XSOE has outperformed EEM over the past five years, and the gap has widened recently.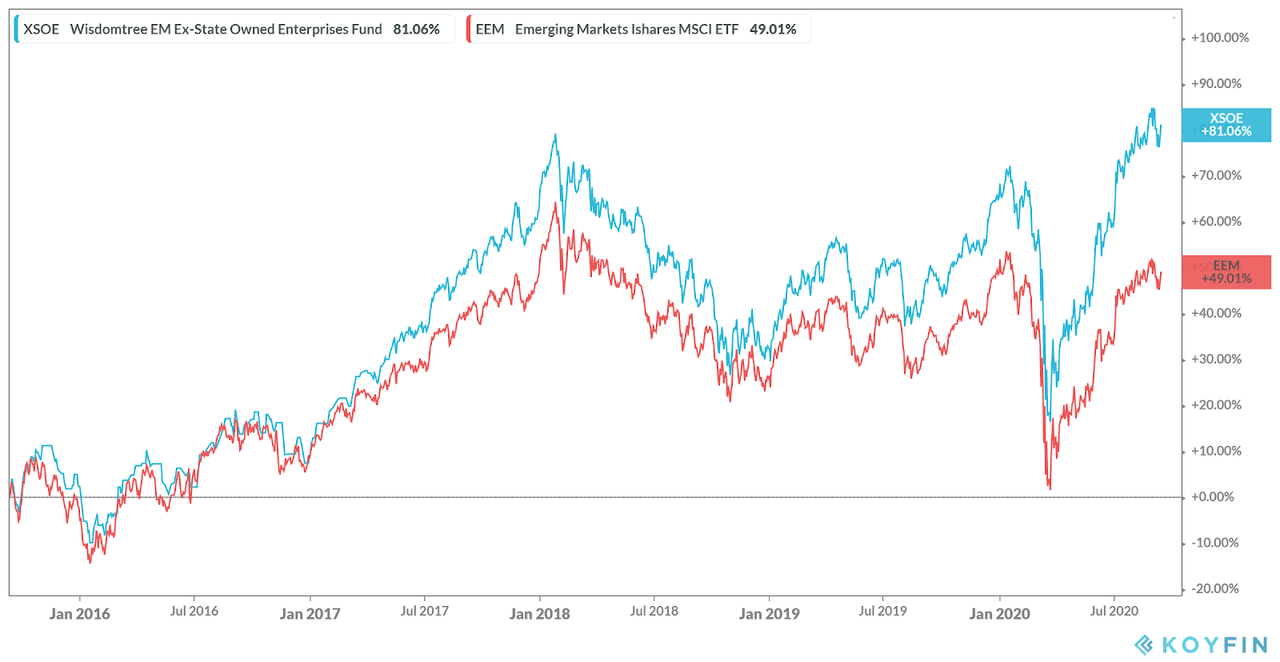 Source: Koyfin
This performance gap is likely going to widen further in the coming years for two reasons. First, governments around the world are facing sharp financial and political pressures from COVID-19. Even more than usual, SOEs will look like piggy banks to emerging market leaders. Governments will pressure SOEs to maintain employment even when it's not economic, and avoid raising prices, even when necessary for profitability. The risk of corruption is also higher during times of turmoil. Second, the COVID-19 has shifted the economy away from old economy businesses to high tech businesses. XSOE is much more heavily weighted to high tech businesses that benefit from more people working from home, and more commerce being conducted online.
Conclusion
XSOE delivers better performance at a 0.32% expense ratio, below the 0.68% expense ratio of EEM. The benefits of this fee difference compound over time, just like the better return on equity of its portfolio components.
Disclosure: I am/we are long XSOE, EEM, EMQQ. I wrote this article myself, and it expresses my own opinions. I am not receiving compensation for it (other than from Seeking Alpha). I have no business relationship with any company whose stock is mentioned in this article.