As online replaces classroom learning and most of us are happy that our kids are learning from the safe confines of our homes, nine underprivileged students enrolled in AMC-run schools are struggling to study without access to mobile phone

In a Covid-19 ravaged world, with uncertainty looming over the reopening of schools and education taking the online route, a large section of underprivileged children are bereft of the resources required to join the classes.
While it is easy for most of us to switch on our mobile phones or log into our personal computers to ensure that our child's basic right is not denied, it is beyond the reach of a section of society. They are worried about the future of their children as they cannot afford a smartphone and have no access to the internet, which is necessary for learning in the Covid-19 affected world.
Bhumika Shrimali, a Class 7 student of Jangipura High School No.1, opposite Civil Hospital in Asarwa, dreams of becoming a doctor or a collector. But her mother Kailashben is worried that her inability to afford a basic smartphone could scuttle her daughter's dreams. "I have a contractual job and do not receive my payment on time. Moreover, I have to pay the house rent.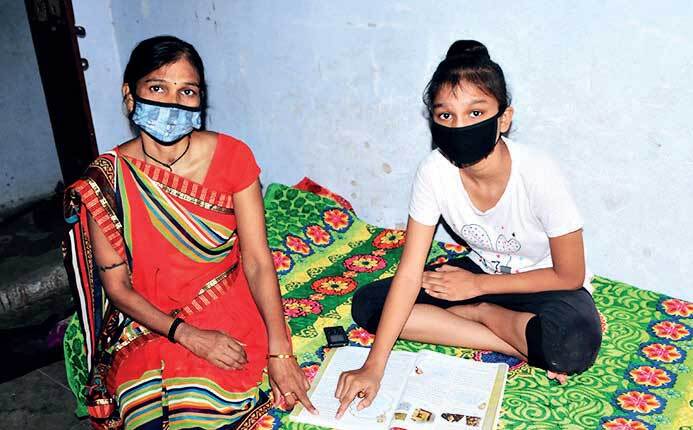 "Such is our situation that sometimes we have to sleep on an empty stomach. How can I afford a smartphone in such a condition?" Kailashben, who works as a housekeeper at Civil Hospital, Asarwa, told Mirror. "I have tried to help her as much as I can and my elder daughter, who is a college student and also works part time, also tries to teach her. But this is just not enough."
"I mostly study myself. Sometimes, my mother and my sister too help me out with studies," Bhumika, who also brushes up her English speaking by practising it at home, told Mirror.
Sumit Lakhwara, who studies in Class 5 at the same school as Bhumika has to rely on his father Suresh Lakhwara for studies. "I lost my job in the garment packaging industry in Hyderabad.
After the lockdown rules eased, I returned to the city hoping to find a job here and be with the family. But I am yet to find a job," Lakhwara said. "I cannot afford a smartphone currently though I want my son to study.
Since I am home, I try to help him out with his studies, but I have my limitations and I cannot replace a qualified teacher," he said.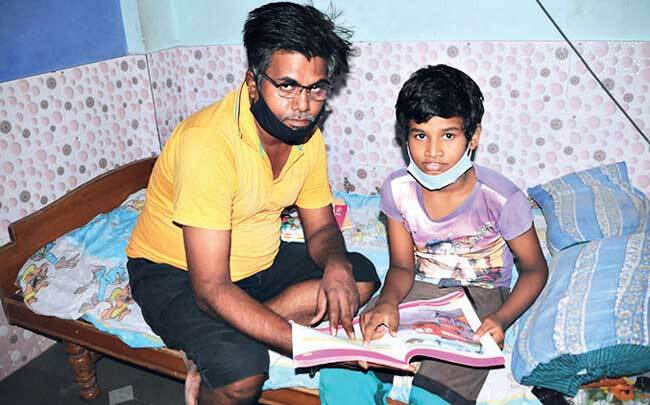 Icannot afford a smartphone currently though I want my son to study. Since I am home, I try to help him out with his studies, but I have my limitations.
-Suresh Lakhwara, father of Sumit, Class 5 student
Collective effort
Anjali Lakhwara, Reshma Patni and Khusbu Bihola, all Class 8 students of Jangipura High School No.1, are lucky to live in the same vicinity in Shahibaug and the fact that Anjali's mother Bhagwatiben has a phone.
"My mother has a phone. I think all three of us are lucky to live in the same vicinity. We meet once a week, discuss our problems and try to solve them. I try to teach them whatever I learn online and help them in their studies," Anjali said.
"We don't have a choice. We are trying to make the most of what we have," Khusbu, whose parents are vegetable vendors, said.
"We leave early in the morning and return home late in the night. We have to work for the family and the future of our kids. I am worried about Reshma's studies, because she wants to study. We will support her as far as possible, but don't know how far we can manage," Reshma's mother Bhavnaben said.
Khusbu's parents, Rajeshbhai Vihola and Meenaben, have plans of buying a smartphone for their child in Diwali. "I lost my job during the lockdown, but recently found one.
My wife works in a printing press. While my eldest daughter is married, I still have to take care of my other two daughters and my parents who stay with us. We have a big family and live in a rented house. It is difficult to meet the expenses, but I am hoping to buy a smartphone for my youngest daughter (Khusbu) in Diwali," Rajeshbhai said.
Online studies, a difficult proposition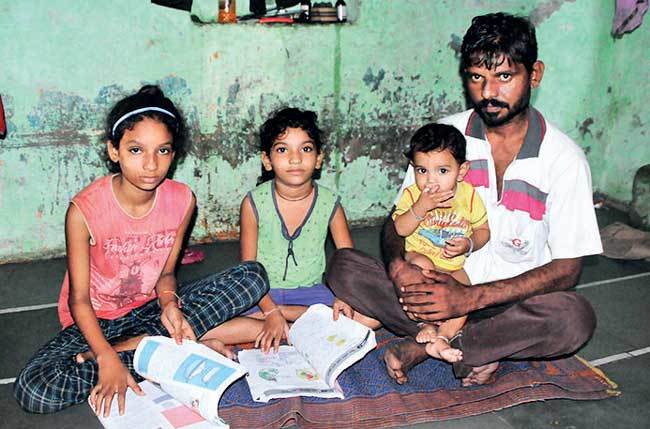 Financial constraints mean Varsang Vaghela, who lives in Chandrabhaga Khada Jogni Maa Ni Chali near Sabarmati Riverfront, had to withdraw two of his eldest daughters from school. But that did not ease things for the daily wager.
"I have four daughters and one son. My daughters Jaya (17) and Nikita (14) don't go to school due to family reasons, but two other daughters Nisha (13) and Sadhna (7) are studying at Vadaj School No.3," Vaghela said. "However, things have become difficult with studies going online and I have no smartphone for them to use," he said.
His neighbour Lakshman Vaghela too faces a similar issue. His eldest daughter Tanya studies in Class 5 at Vadaj School No.3, while his youngest daughter Tamanna studies in Class 3 at Ramapir Ni School (English medium).
"We don't have a smartphone at home, so we cannot study online," Tanya said. "We study on our own and try to understand the subjects by reading the chapters again and again. The teacher does visit us once a month or so, but that is of little help," the youngster said.