Of all of my former employers from which I have received stock-based compensation, the one in which I continue to retain the largest position is JPMorgan Chase & Co. (JPM). As outlined in my "20 Stocks For 20 Years" article, JPM was never a stock I purchased deliberately, but rather one that came to me when JPM acquired my longer-term employer, Bear Stearns, in 2008. Although I sold most of my shares after vesting, I decided to retain a significant number of my shares because of how impressed I was by JPM's organization compared with the other firms I have worked for over the years. In the rest of my portfolio, I am also relatively cautious with financials as a sector due to the magnitude of leverage and valuation challenges, but of the bank stocks I own, JPM continues to pass my checklists despite its complexity.
All charts in this article start on January 1st, 2001, shortly after the merger with Chase Manhattan Bank.
When looking at the long-term growth of a financial, I start by looking at long-term growth in its balance sheet, as financials are fundamentally balance sheet businesses. After the merger with Chase, JPM's balance sheet grew from under $1 trillion to over $2 trillion with the 2004 purchase of Bank One and 2008 takeovers of Bear Stearns and Washington Mutual. Over the past ten years, JPM has added another $1 trillion to its balance sheet without so many acquisitions.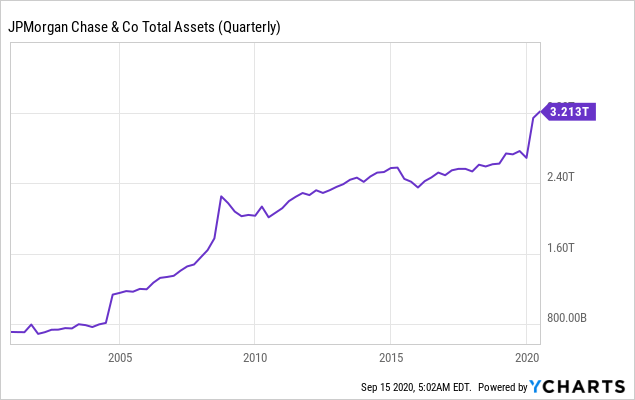 When compared with the three other top US mega-banks in the S&P 500, Bank of America Corp. (BAC), Citigroup (C), and Wells Fargo & Co. (WFC), since the 2008-2009 financial crisis:
JPM seems to have been the second most profitable on a return on assets (ROA) basis behind WFC until recently passing into first place.
JPM seems to have consistently been the most highly levered of these four banks on an assets/equity basis.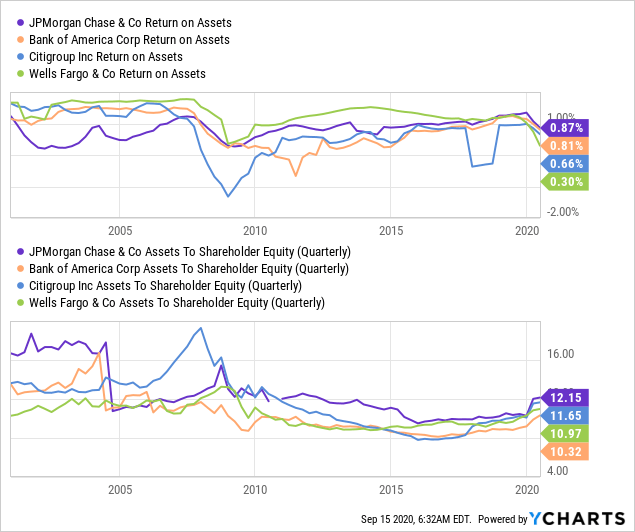 The relatively high asset/equity leverage ratio might be a concern, as Citi's high ratio before the 2008-2009 crisis led to it being the hardest-falling of these four banks, but the relatively high ROA, plus high leverage, means JPM has been able to sustain a return on equity (ROE) rate above 10% for the past 5 years. A long-term projection of ROE, divided by the Price/Book ratio you pay when you buy the stock, can serve as a rule-of-thumb estimate for long-term rates of total return from a bank stock.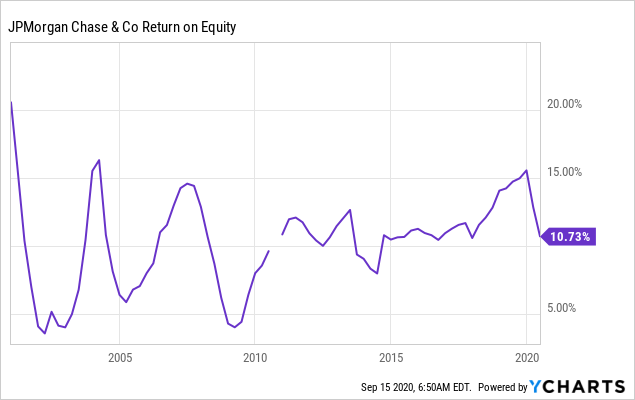 Another important component of any bank's long-term earnings ratios is, of course, its cost of funding. Without looking into it in too much detail, the quickest indicator I could find was the recently traded yield of the below $3B note with just over 6 years to maturity, currently trading at yields around 1%. This is significantly below the ~1.3% yields of comparable notes by BAC and WFC, but higher than the shorter-dated note from Citi. I would read the lower yield on this JPM note vs. the BAC or WFC notes as a small but possibly significant profit advantage for JPM.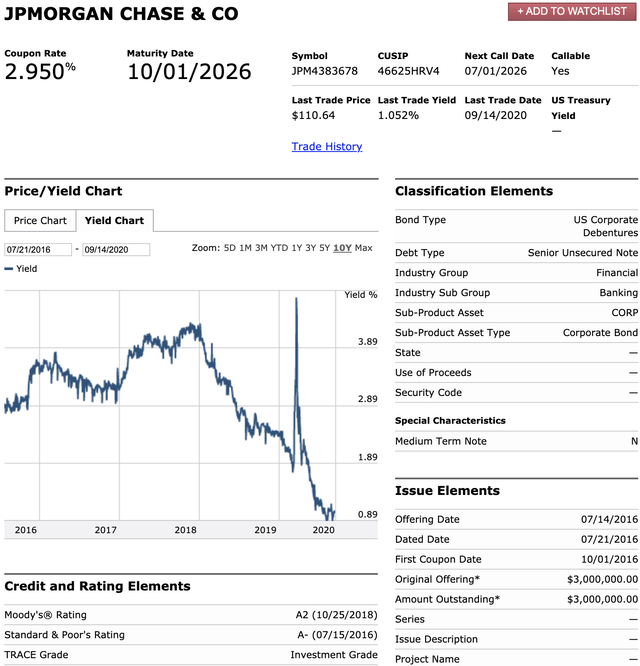 Source: FINRA TRACE
One of my old colleagues at Bear Stearns first told me his two rules of thumb for buying bank stocks included:
Look for banks with a sustainable ROA greater than 1%
Try and buy below 1.2x book value
JPM shares were trading below 1.2x book value for most of the earlier part of last decade, but then traded up above 1.6x in 2018-2019 before collapsing to its current level around 1.3x. So, although JPM's ROA is below that 1% target and the P/B is still above the other 1.2x target, neither seem far enough away to make it worth realizing taxable gains and give up future dividends just yet.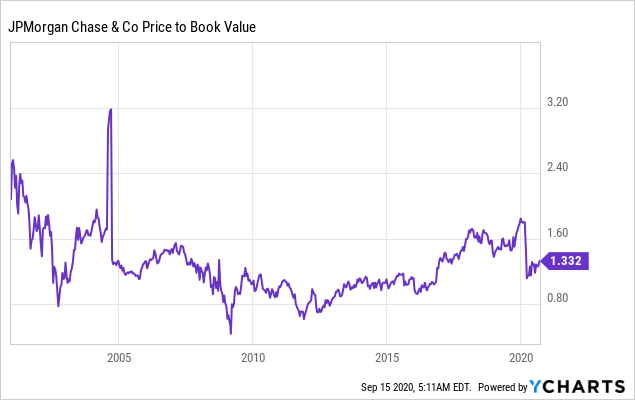 When looking at components of my total return, one thing worth noticing is the decline in shares outstanding over the past five years, which indicates a significant increase in buybacks. Another "yellow flag" this raises, when I look at it, is that these buybacks seem to have accelerated right as JPM stock was getting expensive above 1.4x book value. I haven't looked at JPM's buyback activity in detail, but this doesn't seem to a sign of the best timed buyback strategy on the street. On the flip side, this buyback strategy may also signal the challenges of sustaining a high ROA on an ever-growing balance sheet, and so may signal JPM may "sharpen and shrink" over the next decade or two.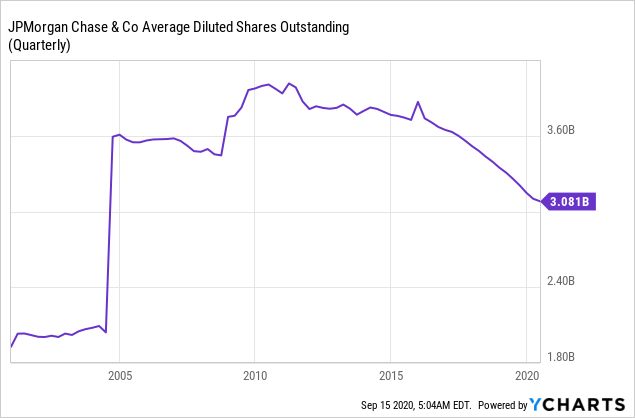 In terms of total shareholder yield, since 2016, it seems that buyback yield has been consistently higher than dividend yield as a component in my total return. Tax-wise, this had the advantage of deferring this portion of my return as a future capital gain rather than as a current taxable dividend, without having to move the shares out of my taxable account yet. The high buyback yield being almost double the dividend yield also provides assurance that JPM has plenty of room to cut buybacks before it would need to cut its dividend. On the other hand, if shares continue to fall below 1.2x book, buybacks might be better for shareholders than a dividend increase.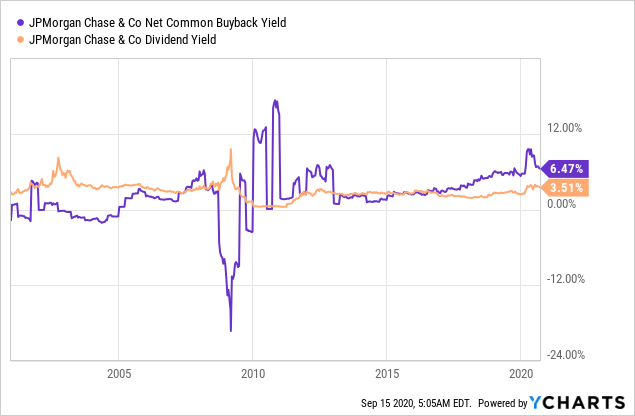 Longer term, JPM has been very slow and steady about increasing its dividend from the post-2008 low of $0.05/quarter to its current $0.90/quarter, and for most quarters over the past decade, the dividend has been less than half JPM's quarterly earnings per share.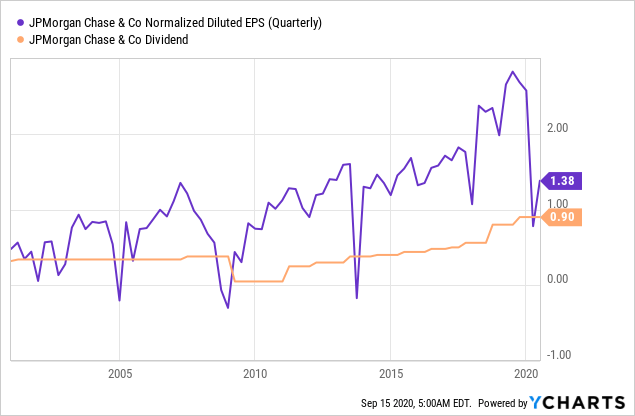 I haven't looked into the details of the normalized diluted earnings per share charted above and the quarterly earnings estimates below, but it seems that even JPM's "disastrous" 2020 2nd quarter EPS didn't fall below its $0.90 dividend, despite missing expectations. Earnings estimates for the rest of 2020 and 2021's first quarter seem to have been revised down significantly, but remain in the $1.70-2.00 range, well above the current $0.90 dividend.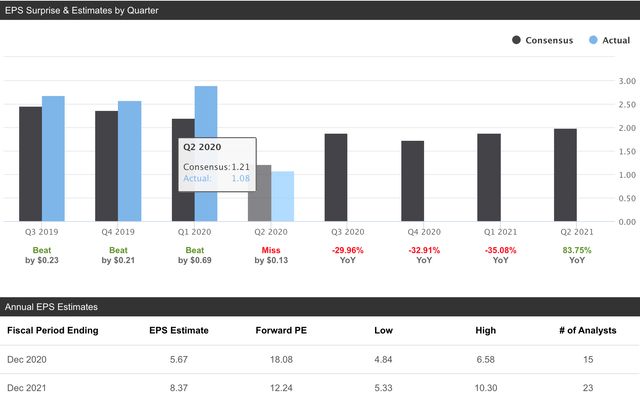 Conclusion
As I explained in my HSBC article earlier this year, dividends of bank stocks are often one of the first things I expect to see cut in crisis years like 2020. If JPM manages to maintain its $0.90/quarter dividend through 2021 with no cuts, despite a likely wave of bankruptcies still yet to work out through this pandemic, I would consider that as good as a dividend increase in most other years. Shorter term, a safe >3% dividend with room to grow is significantly more attractive than a <2% 30-year treasury yield guaranteed not to grow. Longer term, I would want to get a better idea of whether future dividend growth is likely to come from continued asset growth versus a "sharpen and shrink" path driven by buybacks, assuming, of course, that continued strong earnings can sustain either. Most of what I've seen over the past 10 years tells me that this bank is just as well run as it was when I left, and its "moat" is arguably even wider now than it was in 2008-2009.
On the flip side, I can imagine several "risk" scenarios for JPM:
Overall, I see the dividend growth paths as still being more likely than these risk scenarios, so I'll happily accept those risks for this position.
Are you looking to improve the income generating ability of your portfolio, not just this year, but for decades to come? Members of Long Run Income get my regular short form analysis, "dividend check" reviews on dozens of quality stocks, screens, model portfolio updates, and ideas like these that can significantly increase your investment income over time, as well as access to our members-only chat room for discussing your questions. See more of my latest ideas with your free trial to Long Run Income.

Disclosure: I am/we are long JPM. I wrote this article myself, and it expresses my own opinions. I am not receiving compensation for it (other than from Seeking Alpha). I have no business relationship with any company whose stock is mentioned in this article.