Leidos (LDOS) is a bit of an oddball company. It seems to be involved in a never ending myriad of sectors from Intelligence (think CIA, NSA & DIA), Civil (airport screening), Space (Missile warning systems and cargo payloads), Energy (nuclear waste clean up) and even biotech development and health care analytics.
Clearly this is a sprawling and very complex company that cannot be summed up in a single article, so in this piece I would like to focus on a key program of interest for me at Leidos.
Skyborg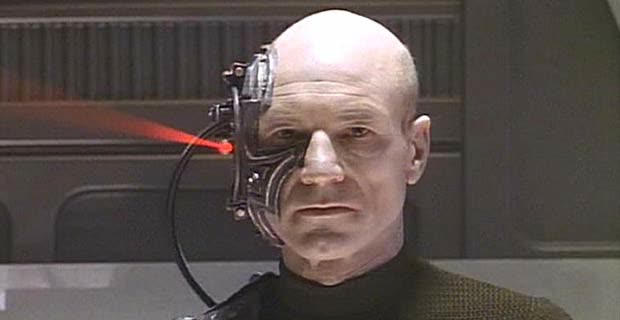 Source: pinterest.com
Skyborg is an autonomy-focused capability that will enable the US Air Force to operate and sustain low-cost, AI connected teamed aircraft that can thwart adversaries with quick, decisive actions in contested environments.
Think of this program less as Jean Luc Picard's transformation into Locutus of Borg and more of an expendable buddy system for current and future manned aircraft systems.
The Air Force's current problem with peer to peer potential conflicts is both the terrible loss of life of our pilots and likely of equal but less talked about importance, the loss of very expensive and complex hardware.
With an F-22 costing upwards of $334 million each and F-35's at the low, low price of $121 million, a future war where our planes are actually in real danger is a very expensive proposition. Any our enemies know it!
Both China and Russia have built their defenses not to truly win an "all out, fight for survival war", but to make any conflict with them so dang expensive and deadly for us, that it makes the cost too great to undertake on a whim.
A single S-400 missile only costs approximately $1 million, so the return on investment if that missile happens to take down an F-22, is 334 to 1.
Skyborg looks to even those costs by equipping an F-35, F-15E or even the vaunted F-22 with a team of affordable, armed robot friends that it can use to force project and overwhelm a potential adversary.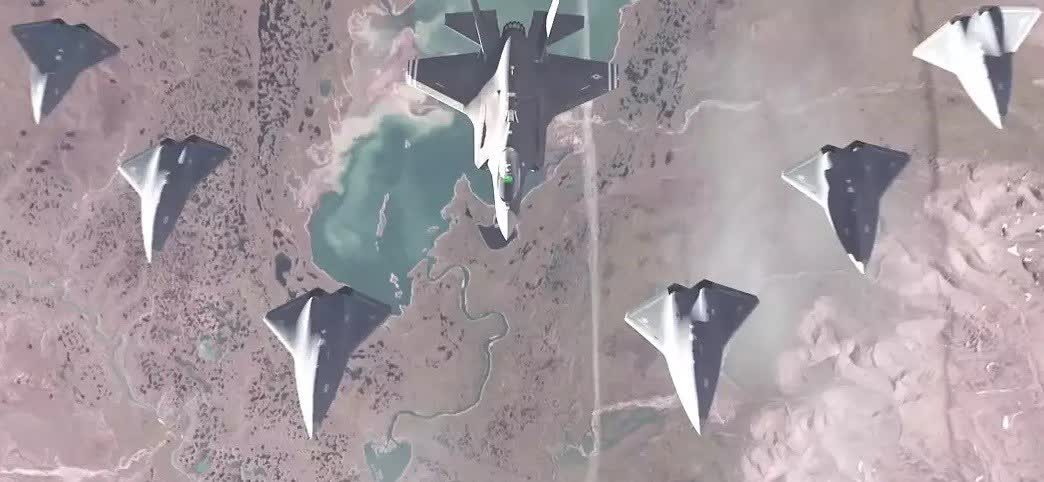 Source: SOFREP | Military Grade Content
In the rendering above, a F-35 is given six semi autonomous AI equipped drones, which appears to be a reasonable estimate of the known program, thus giving a typical squadron of 12, F-35's, 84 potential total strike platforms with which to attack an enemy. In essence, flipping the tables on the Russian's or Chinese by basically kamakase'ing the cheaper AI drones into a $500 million S-400 SAM site.
A key moment in the program happened recently and without much fanfare. Below is a quote from the Air Forces website:
"The intent of Skyborg is to integrate an autonomy mission system core and suite of services (developed under a separate Skyborg system design agent program) with multiple low-cost air vehicle systems, each designed to perform one or more mission types," the solicitation said. "The Skyborg core will be a best-of-breed combination of industry and government solutions. … This system will allow rapid software updates and integration of new technology to field capabilities to defeat emerging threats."
Leidos on May 19 received the $28.6 million contract to act as the system design agent that will tie the various ideas together.
To this day, Leidos mentions absolutely nothing about the Skyborg program on its website and finding data on this subject is obviously very difficult, as semi-secret programs should be, however this program I believe has the potential to be massive for the future of Leidos.
Look, $28.6 million is frankly peanuts to a company of Leidos's size (over $12 billion in revenue in 2019), however this contract has the potential to pave the way for the US military for how it conducts business going forward.
Understanding the unique structure of this contract is vital if you want to envision why Skyborg could change everything for the military. Because like the Borg in the popular 90's Star Trek show, Skyborg keeps evolving, indefinitely. The US military is hoping that in fact "resistance is futile".
That means a completely new approach to design. An open, modular and platform-agnostic framework in which any contributor can participate at any point across the entire multi-decade life cycle of the program.
This is not the usual way the United States military has bought weapons in the past, so in order to shape the government's future foundational architecture the Air Force decided a system design agent was needed, opening the door for Leidos to take advantage.
The design agent for Skyborg exists to help the Air Force create a completely open and competitive environment in which they will never be locked into relying on specific vendors because the Air Force would own virtually all of the intellectual property.
Prior to Skyborg, contractors owned nearly all of the IP associated with a specific program, so the various departments would spend maddening amounts of time and energy fighting with the contractors over how it could use the contractors IP and what price to pay for it, slowing the process to a crawl.
Skyborg turns that model completely upside down, and enables the Air Force to take government and DARPA innovation concepts wherever it wants, with whatever vendors it chooses. The government will own the IP and not be tethered to unreasonable costs or to demands of the vendors.
The idea is that technology is evolving so fast that competitor nations like Russia and China are catching up due to the massive red tape put in the way of the Pentagon in the traditional model of negotiating everything with vendors to mutual satisfaction.
The system design agent contract the company was awarded isn't as a vendor, but as a traffic cop of sorts by helping the government to set standards and assure that hardware and software complies with the programs "prime directive" of openness and modularity.
Leidos will also be required to select and manage various subcontractors to award its contracts and for quality control in the program.
In fact, the program recently awarded $400 million a piece to Boeing (BA), Northrop Grumman (NOC) General Atomics and Kratos (KTOS) to build an AI enabled drone wingman.
Pictured below is a concept drone by Kratos for the program.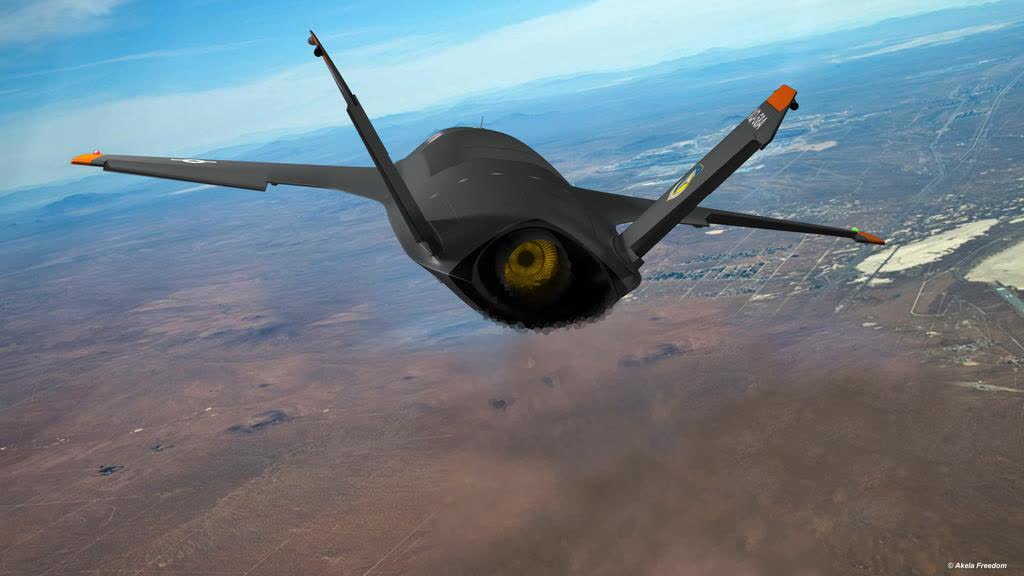 Source: Technology innovation for national security | Kratos
Much of the current press and "noise" surrounding Skyborg focuses on the notion of expendable drones that can be sacrificed if necessary to support the missions of manned aircraft. But that in my opinion is just the tip of the iceberg to where Skyborg could lead as artificial intelligence increasingly drives what tools our war fighters may have in the toolbox and if successful could expand exponentially.
China and Russia undoubtedly will only speed up their current projects and continue to view technological parity as a key goal of both states, however this change in the way potential future projects are approached by the US military serves to level the playing field, allowing the government to react and adapt more quickly to the forever changing advancements in technology.
The main reason I am so positive about Leidos's prospects regarding Skyborg is the fundamental shift in how military hardware acquisitions may be conducted going forward. The fact that Leidos does not tie its fortunes on the traditional model and instead may become the key, trusted broker of sorts between the government and defense contractors. This is a huge potential source of revenue in the future as well as serving to cement the company as essential to the military and intelligence complex for the large amount of business it already conducts with them.
Add to the fact that the company will have vast and deep insights into a huge array of emerging and future defense technologies, trends and needs of the military, allowing it to adapt and react quicker to changes in the other sectors in the defense industry it competes in.
Valuation and Risks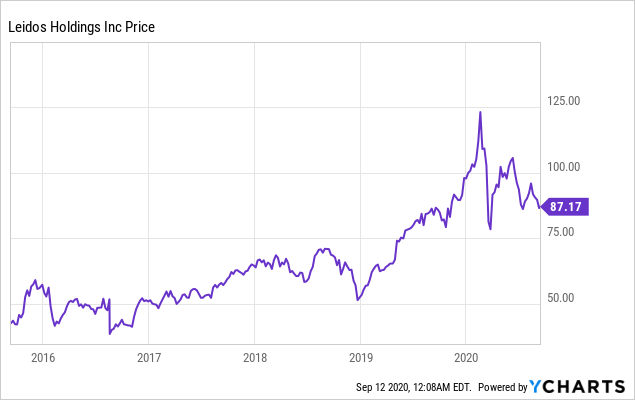 The company's stock of late has been on a heck of a ride! Markets have, in my opinion unfairly branded the company as both a victim of the Covid-19 pandemic as well as the fear of a potential Democratic administration in 2021.
I find both of these fears to be massively overblown. Covid-19 has had a very minor impact to the company with most impact focusing on its TSA and civil programs which are not an overly large or profitable portion of the company currently. Leidos focuses mainly on mission critical programs and systems and as such Covid-19 is not going to slow them down much.
In fact the guidance given on the last earnings call on August 4th, the company raised the 2020 guidance for non GAAP diluted EPS by .25 cents per share and increased total operating cash flow estimates by 20%.
On the Democratic administration front I would reiterate that the company operates in mission critical systems and programs and for all the bluster of the current administration, Joe Biden has been and looks to continue to be a very pro "strong military" politician. Perhaps even more so than the current administration.
I find it very likely that any such budgetary pressures from a new administration would likely be directed at expensive big ticket items such as the F-35 or new proposed naval assets, not at the CIA, NSA, cybersecurity or Skyborg (which in theory is net-cost positive).
The company is also very reasonably valued in the sector, sporting a forward PE of only 13.7 and forecast to grow earnings at a 12-15% pace going forward. This compares favorably to both Lockheed Martin (LMT) and Northrup Grumman who are more exposed to volatile big ticket programs and reliant on the current system of major contract wins for growth.
I believe new investors here are gifted a very favorable long term entry point currently at $87 with the risk reward tilted solidly in long term investors favor.
So in conclusion, to me the future looks very bright for this little known company and I look for the Skyborg program to be the spring board for big things in the next chapter of the company and for the United States military.
I recently added to my now full position at $88 and would look to add further on any drops below $80.
"This is not a solicitation to buy or sell a specific security nor is it to be construed as investment advice, please contact your licensed financial and tax advisor for advice to your specific situation"
Disclosure: I am/we are long BA, LDOS. I wrote this article myself, and it expresses my own opinions. I am not receiving compensation for it (other than from Seeking Alpha). I have no business relationship with any company whose stock is mentioned in this article.