Neotop, a leader in K-defense

Video Link: https://www.youtube.com/embed/ubMZ6vafjBA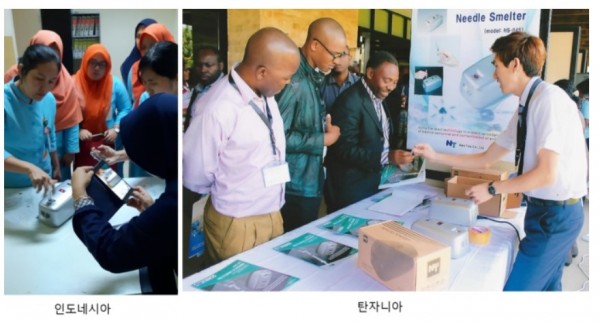 Due to the current COVID-19, the reputation of 'K Defense' is rising day by day. As a model quarantine state, Korea is drawing the attention of the world, and major foreign media are also reporting on the case of Korea's quarantine. Developed countries such as ones in Europe also high evaluated Korea's rapid response, systematic medical system, and diagnostic kits. Korea's national branding has improved significantly with the emergence of COVID-19. On the other hand, COVID-19 seems to be both a crisis and an opportunity for technology-based medical startups. Especially, medical fields such as telemedicine, diagnostic kits, and masks production were selected as the most promising industry after the occurrence of COVID-19. Let's see the case of Neotop, one of these medical start-up companies.
Secondary Infection Prevention such as Needle Puncture Accidents by Medical Personnel
Neotop is a company specialized in manufacturing and exporting medical devices. Currently, a needle destroyer has been jointly developed with KIST (Korea Institute of Science and Technology) to be commercialized and distributed to domestic and overseas markets. With this, the company aims to contribute to the safety and environment of mankind and promote the national branding of Korea.
Medical workers serving in hospitals are at great risk of infection. Specifically, diseases related to needle sticks are blood-borne and can transmit through hepatitis B and C, HIV, AIDS, tuberculosis and malaria. Infection control for medical personnel is indeed escalating, and Neotop pays attention to this point to explain that commercialization of needle smelters can prevent secondary infections as well as provide a way safely dispose of needles.
Injection needles, classified as medical consumables, are considered to be the main cause of skin damage and secondary infections due to puncture accidents. Neotop's injection needle smelter is applied with a new technology called plasma Arc method at an instantaneous high heat of 1,600 ℃ to sterilize 99.9% of the foreign objects as well as the injection needle. Therefore, the risk of secondary infection can be easily and safely prevented. 
The challenge of Neotop, a medical startup that aims for a niche market in a new way, still continues today.
Media Contact
Company Name: Neotop Co., Ltd.
Contact Person: Jeong Ki Seung
Email: Send Email
Phone: +82 2 2678 4015
Country: Korea
Website: https://www.gobizkorea.com/user/goods/frontGoodsDetail.do?goods_no=GS2020070793429&ctgryCode=S0800100050000&upperCode=M0800100000000&goodsNms=Personal-Needle-Smelter&skwanSn=&speclKwanId=SPCCD0000626
Press Release Distributed by ABNewswire.com
To view the original version on ABNewswire visit: Needle Puncture Accident and Secondary Infection Prevention