At a time when pandemic-induced uncertainty and anxiety is getting the better of most, some of Bollywood's brightest are filling empty, shoot-less days tapping into the therapeutic benefits of music. Ticking off long-unfulfilled resolutions, Vicky Kaushal, on Independence Day, was plucking on the strings of a sitar to pay an ode to the country with "Ae Watan", while lovebirds
Farhan Akhtar
and Shibani Dandekar jammed to "Shallow" on the guitar and the piano. The coronavirus-triggered lockdown has certainly been 'note' worthy for
Bollywood
.
►
Neil Nitin Mukesh: Harmonium again
Music has always been an integral part of his life and despite choosing acting as his profession, singer Mukesh's grandson continues to stay in touch with the musician within. But with his piano locked up in the office, Neil got to brush up on his harmonium skills on their ancestral instrument after moving in with his parents, along with doing daily riyaz with father, Nitin. "My grandfather's guruji taught me the harmonium and I feel connected with him when I play my grandfather's songs on it, my favourites being Mera Naam Joker's 'Jeena Yahaan Marna Yahaan' and 'Suhani Chandni Raatein' from Mukti," he shares.
►
Siddhant Chaturvedi: Rocking it with a guitar, flute, mouth organ
For Gully Boy's MC Sher, learning the guitar during these jobless days meant not only adding yet another skill to his resume and bringing mental peace, but the videos which he posts on his social media also serve as an audition tape. "I want to be offered scripts revolving around a musician and do films like Rockstar. So, this is my way of putting it out in the universe and to all makers that I can play the guitar and look good doing so," he says unabashedly. The actor has done his fair share of DJ-ing and can also play the mouth organ. "Now, I am learning the flute. There is no place in the apartment for a drum set, otherwise, I would have been a one-man band by now, but someday in the future maybe…" Siddhant says wistfully. As of now, he is playing his own creation "Dhoop", and turning poetry into music. "I also like playing 'Photograph' by Ed Sheeran, Silk Route's 'Dooba Dooba Rehta Hoon' and 'Kaise Hua' from the film Kabir Singh."
►
Pulkit Samrat and Kriti Kharbanda: Keynotes
Pulkit Samrat and Kriti Kharbanda, who have been together through the lockdown, created symphonies on a piano. "Your hands flowing on the keys, your mind focusing on the melody and your heart following the beat you set," waxes the actor who has been practising his song, "Kaun Kenda Hai", and playing unplugged versions of everybody's favourite, Michael Bublé. Kriti started with "Bella Ciao", then moved to her own song "Jogi". "I am taking proper piano lessons online," she asserts. Duet soon?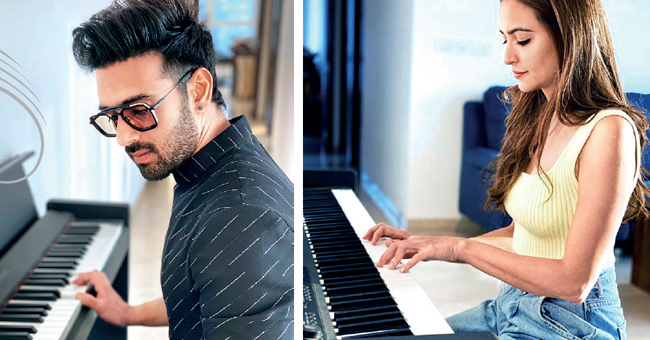 ►
Radhika Madan: Tuning into the golden oldies
Radhika traded her time on the dance floor to make her fingers dance on the black-and-white keys of a piano. "Presently, I am learning 'City Of Stars' from La La Land and some old Hindi songs," informs the actress who collaborated with Jasleen Royal on a rendition of "Lag Jaa Gale" on the social media. "The song tells us that we only have today and we have to make the most of it, much like in the present scenario," she smiles, admitting that she often plays the tune on the piano.
►
Hrithik Roshan: Piano for the superhero
Being the perfectionist that he is, Hrithik has been diligently taking regular piano lessons online while sons Hrehaan and Hridhaan have been learning the guitar. The trio surprised his composer-uncle Rajesh Roshan with a rendition of Kailash Kher's "Allah Ke Bande" on his birthday on May 24.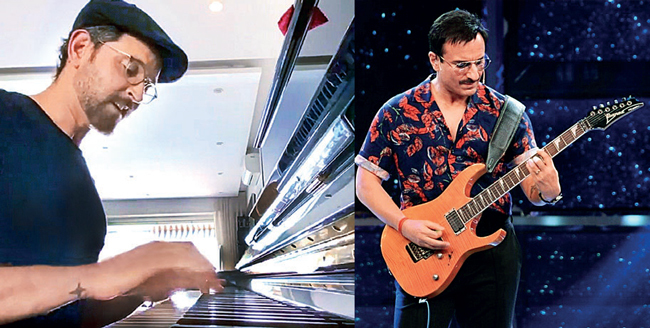 ►
Saif Ali Khan: Strumming a lazy song
Having equated the lockdown to a "long voyage on a 19th-century ship", Saif escaped cabin fever by challenging himself to perfect Bruno Mars' bestselling "The Lazy Song". What better way to describe the lockdown state of mind than the lines that go, "Today I don't feel like doing anything, I just wanna lay in my bed…" But as he points out, "it's a particularly difficult guitar piece to master," so he certainly hasn't been lazy with his music.
►
Aparshakti Khurana: On a song with his guitar
The Khurrana brothers have always been musically inclined. While Ayushmann took to the 'gram to inspire filmmakers to cast him as the Professor on Money Heist with his rendition of "Bella Ciao" on the piano, Aparshakti polished up on his guitar skills. "I took some online lessons that helped me compose music as well," he reveals, admitting that he is partial to Punjabi folk music, and play Neha Kakkar's "Kalla Sohna" and "Haaye Oye" by DJ Qaran the most. In fact, he will be coming out with a song real soon too.
Mirror Exclusive Photos: Candid photos of your favourite Bollywood stars and celebrities as Mumbai unlocks
In the company of his books
Saif, Taimur step out to enjoy Mumbai rains
Disha Patani spotted in Bandra
Taimur's day out with Saif Ali Khan, Kareena Kapoor
Gabriella Demetriades takes her dog for a walk
​Abhishek Bachchan resumes work
​Angad Bedi spotted in suburbs