Investment bank JP Morgan is seeing significant moderation in iPhone sales in the United States ahead of the anticipated launch of Apple's "iPhone 12" lineup.
In a research note seen by AppleInsider, analyst Samik Chatterjee cites recent surveys carried out by Wave7 Research analyzing smartphone sales trends across carriers. The research suggests that iPhone sales are moderating, or leveling out. Chatterjee says that's because of the recent launch of Samsung's refreshed handsets, as well as growing anticipation for the "iPhone 12."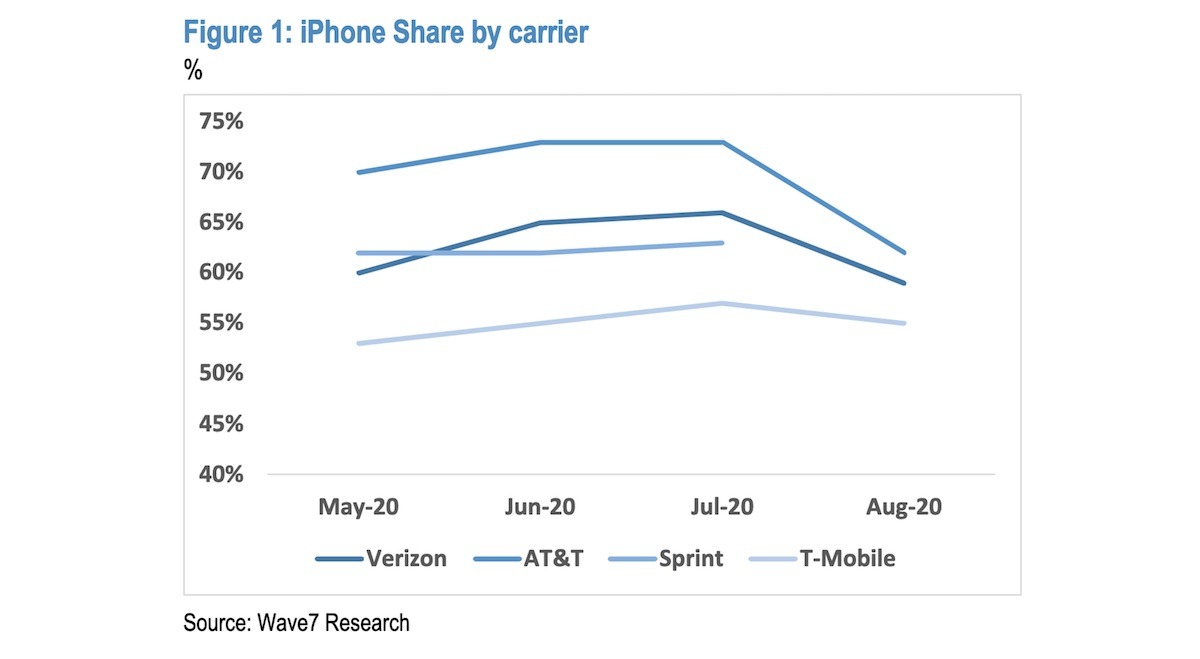 Credit: JP Morgan
Market share for Apple's "iPhone 11 device, for example, is declining despite inventory-clearing carrier promotions.
Sales of the iPhone SE appear to be doing better, particularly in the postpaid market. Chatterjee notes that supply of the device remains tight, which could indicate that demand may be more sustainable for the specific model.
When it comes to the prepaid market, the "iPhone 7 and iPhone XR remain the primary devices sold at certain carriers.
There are also fewer Apple Store locations open than there were in June, the research shows. As of September, 58% of Apple's retail locations in the U.S. were open, down from 80% in June. That's largely due to a reemergence of coronavirus cases in certain locations.
On its own, JP Morgan's research tracks a decline in iPhone sales. But that's normal ahead of a major flagship launch, and, taken together with other recent research notes, it suggests rising anticipated demand for Apple's upcoming lineup.
Chatterjee's 12-month AAPL price target remains at $150 thanks to potential growth catalysts like the "iPhone 12" and moderating trade tensions between the U.S. and China.
On Sept. 15, the analyst largely expects the "Apple Watch Series 6" to drive Apple's launch event. But he adds that, based on production timelines, it's still possible for Apple to announce at least some iPhone models ahead of a October launch.
The analyst's 12-month price target of $150 is based on an earnings-per-share estimate of $4.96 and a blended price-to-earnings multiple of 30x.
Shares of AAPL are currently trading at $111.76 on Friday morning, down 1.52% in intra-day trading.