I brought Amkor Technology, Inc. (AMKR) to the attention of my dear readers in December 2019. Examining its multiples, I concluded that the company has quite a perplexing valuation profile: while P/E was abnormally high, debt-adjusted ratios pointed to the fact that AMKR was hugely underpriced, but I remained neutral because of one red flag: the insider selling.
Since then, the stock has been riding a bumpy rollercoaster, as the price first quickly climbed ~14.8% to $13.89, but then struggled for a few weeks and finally plummeted, as the overall stock market was dragged down by the coronavirus sell-off. After that, the price recuperated together with the S&P 500 (SPY). Now AMKR is trading a bit lower than at the time of the publication of the previous article, and I suppose it is worth updating my sentiment on the stock, especially given it is among the top stocks in the semiconductor equipment industry with a Very Bullish Quant Rating.
Sector-leading Quant Rating
As a quick reminder, Amkor Technology is the OSAT (Outsourced Semiconductor Assembly and Test Partner) company, which means its revenues are in a tight correlation with the semiconductor cycle. At the moment, AMKR has a unique combination of single-digit medium-term revenue growth, cheap valuation if compared to the information technology sector, and robust profitability backed by high capital efficiency and FCF. Besides, the Wall Street pundits have recently made a few upward EPS revisions.
Now let us take a more in-depth look at these parameters.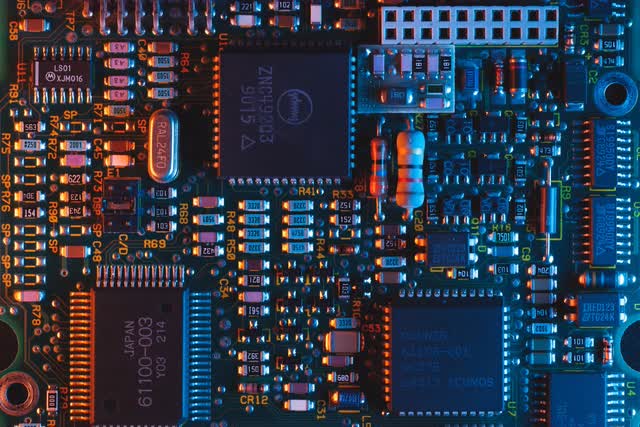 Source: Unsplash
Double-digit expansion despite the pandemic
First and foremost, Wall Street is expecting the semiconductor cycle to be supportive of Amkor's medium-term moderate growth, spurred by 5G, the consumer electronics trends, and the possible recovery in the automotive market. The pundits are anticipating AMKR's revenues to climb to $4.8 billion in 2020, which means YoY growth rate might touch ~18.5%, even despite the pandemic and its detrimental ripple effects that have been reverberating across supply chains. The analysts are less bullish on the medium-term expansion prospects, as, according to their estimations, the revenue growth is due to decelerating in 2021 and 2022, retreating to the mid-single-digit range.
No analyst forecasts are available for 2023-2024, but we might assume that if Amkor performs generally in line with the OSAT market, it might deliver close to ~6% growth in the best-case scenario, as a 6% industry CAGR for 2020-2024 is anticipated by analysts who prepared the 360 Market Updates research report.
In my previous article, I mentioned that AMKR was "perfectly prepared to benefit from the automotive industry recuperation after current stasis caused by the trade war." Unfortunately, after the trade uncertainty had already clouded the outlook for the industry expansion, the coronavirus emerged, and it would be not an exaggeration to say that for the automotive players, 2020 has been a perfect storm. As activity hibernated because of city lockdowns, plant closures, and subsequent destruction of supply chains, heavyweights reported horrible double-digit shrinkage of quarterly revenues, which, in turn, led to a short-term shift in Amkor's revenue mix: in Q2, the automotive, industrial and other end-markets fell from second place to third (as their 29% contribution to the top line shrunk to 19%), while consumer, which encompasses a broad range of sub-markets from connected home, set-top boxes, televisions, and visual imaging, to wearables, seized the second place because its share in the revenue mix rose from 15% in 2Q19 to 27% in 2Q20.

Source: Form 10-Q, page 9
Here I would like to pay a bit more attention to the softness in Japan, which was highlighted by the Amkor CEO Mr. Rutten during the Q2 earnings call who clarified that the "automotive business is expected to show continued weakness with further revenue declines in the automotive supply chain, particularly in Japan." Poor sales performance in the country also most likely made AMKR close one facility and incur $10 million in the Q3 restructuring expenses.
I would like not to speculate what clients purchase ICs that were packaged and tested by AMKR for their infotainment, body electronics, powertrain, or advanced driver-assistance systems, as there is no data on exact customers in the Form 10-K, and the supply chain here is overly complex. However, I would like to bring a bit more context here.
First, it is worth mentioning that the motor vehicle production in the country had already been weak in 2019, as it fell 0.5% vs. 2018, for the first time in three years, according to the Motor Industry of Japan 2020 report prepared by the JAMA. 2020 turned out to be a calamitous year, as, for example, Nissan's (OTCPK:NSANY) Q1 FY20 (ended June 30) revenues plummeted 50.6%, touching a multi-year low. At the same time, Honda's (HMC) Q1 FY21 total revenues were down 46.9%, while Mazda Motor coped with a 55.7% decline.
Mazda and Renault/Nissan are among the essential customers of Visteon Corporation (VC) (see page 90), one of the global leaders in the infotainment market. And VC has electronics manufacturing and/or assembly facilities in Japan (page 14). Visteon itself reported a precipitous decline in almost all its product lines except for telematics in Q2 (page 8), but unfortunately, it does not provide precise figures per country.
So, the poor car sales clearly had pernicious effects for volumes of assembled and purchased infotainment systems and related ICs, for example, as companies in the supply chain have been managing their inventory especially conservatively.
But even though the sluggishness in the automotive end-market and especially in Japan has been a drag on AMKR's top line this year, pronouncedly resilient demand from other industries overcompensated revenues lost because of a steep decline in car production and sales. While the Mainstream products segment was down both in 1H20 and 2Q20 because of sapping demand for wire-bond packaging (and related test services), Advanced products delivered a startling improvement in sales, which went up 68% in the first half of the year and 69% in the second quarter. As the demand from the consumer and communications end-markets rose sharply, the Q2 revenues increased ~31% vs. 2Q19. And the company is anticipating sequential improvement even in the worst-case scenario in Q3, predicting net sales to be between $1.2 billion and $1.3 billion (slide 12).
Profitability and capital efficiency
AMKR has a B Profitability Grade, which means it is among the most efficient stocks in the semiconductor equipment industry. One issue that will likely attract a reader's attention is lackluster gross margin. The primary culprit here is high depreciation & amortization, which AMKR includes in the cost of sales. D&A are non-cash expenses, thus they have no impact on net CFFO and FCF.
Moreover, AMKR's Cash ROTC is standing at ~18.7%, which I consider a solid result.
Briefly on valuation
The issue of puzzling valuation I highlighted in the previous note evaporated as the net income bottomed in 2019 and since then had recuperated together with the top line. Now the stock has the highest Value Grade possible and is trading at only 3.86x EV/EBITDA (Forward).
Interestingly, its closest peer ASE Technology (ASX) is also at the very top of the tech sector with an A+ VG, but its EV/EBITDA (Fwd) is higher and equals 5.25x.
A quick look at the financial position
Almost half of Amkor's shareholder equity is cash & cash equivalents. Its net debt has been trending down since 1Q19 (slide 25) and touched a multi-year nadir of $451 million in 2Q20. Now, Net debt/EBITDA is standing at 0.52x. Moreover, the LTM EBITDA covered net interest ~14.6x. All in all, the balance sheet is fairly robust.
Final thoughts
Though deleterious effects of the pandemic clearly impacted AMKR, as its revenues from the automotive end-market shrunk, overall, the top-line performance YTD was exemplary. With a 31% sales growth rate in Q2, Amkor has almost not noticed that the recession is raging.
However, I would like to remain neutral, as the stock will offer much better capital appreciation potential if its EV/EBITDA goes lower to ~3x.
Disclosure: I/we have no positions in any stocks mentioned, and no plans to initiate any positions within the next 72 hours. I wrote this article myself, and it expresses my own opinions. I am not receiving compensation for it (other than from Seeking Alpha). I have no business relationship with any company whose stock is mentioned in this article.