Experience is a hard teacher because she gives the test first, the lesson afterwards.− Vernon Saunders Law
On September 2, 2020, the IMF published a very interesting Twitter poll about the future of work. The winner was "Choose Your Own Schedule," with 35.8% votes. Though many of us have an idea of what's coming, most are unsure how the changes can impact stock investing. For example, education is directly connected to work, but if we were to understand how it will evolve, we can pick winning stocks right now for the long term.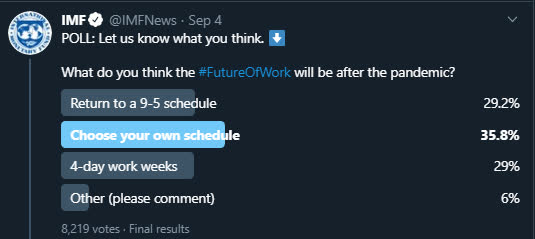 Image Source: Twitter
So I dug deeper to figure out how work in the future can impact investors. Here are the results:
Automation
Before our economy got slammed by the pandemic, McKinsey had predicted that 30% of American jobs would be automated by 2030. After COVID-19, automation is estimated to pick up pace and spread far and wide as quickly as possible. It will for sure boost our economy but workers need to upgrade their skills and update their education over time.
As the pace of automation increases and the economy becomes more and more digital, education and training are estimated to go beyond the conventional classroom. Widespread automation can also trigger higher minimum wages and UBI (Universal Basic Income) for people who are not tech-savvy or are retired.
Education
Education is directly linked to work, and therefore, if the nature of work has to change, education also needs to evolve. COVID-19 has hugely disrupted education. The negative reaction to rising tuition fees and elitist culture has intensified.
Per Nature, the trend is shifting to online classes, offering fewer admissions to international students, and shifting focus to national and local communities. Finances of most universities are dwindling and the forecast is that only universities that have deep pockets will not be impacted. Also, open learning is becoming more popular with each passing day.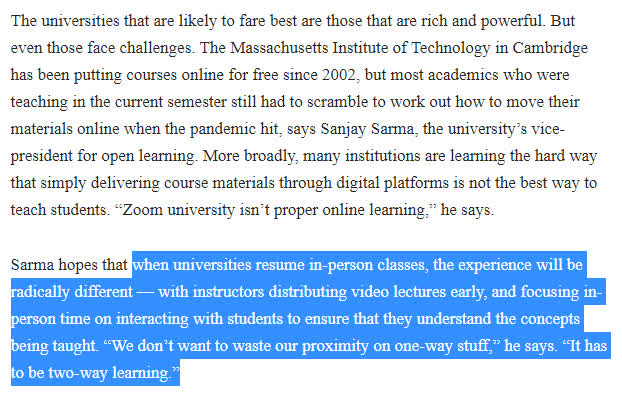 Image Source: Nature
Sanjay Sarma, VP of MIT's open-learning initiative, opines that after the virus is contained, instructors will distribute videos early and focus on interaction during in-person classes to ensure concepts are understood.
Skills to survive in the post-COVID-19 age also may witness an overhaul as technological obsolescence and digitization of the economy gather pace. Investors can consider switching from conventional education stocks to companies that coach skills suitable for the workplace of the future.
Income Inequality and Resentment
If people are allowed to choose to work from home or be in office for, say, 4 days a week, and their pay scale remains the same, it may cause resentment in low-wage earners. Typically, low-wage earners are employed in industries that require a physical presence – for example, in sectors such as food, transportation, hotels, and construction. If they are expected to be present at the worksite every day, they may be left dissatisfied because they are getting paid the same for working more than the guys in the happening sectors.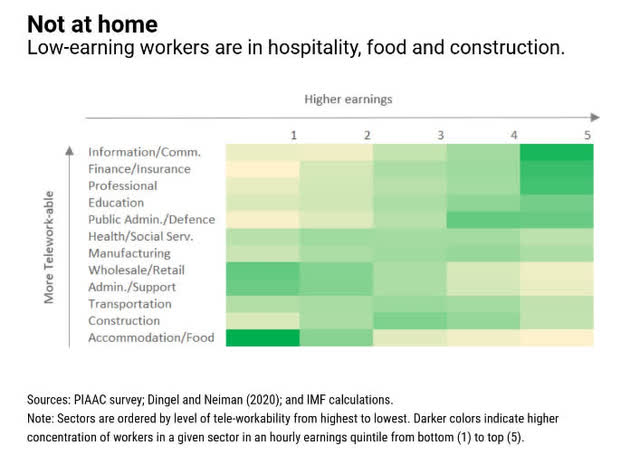 Source: IMF Handle on Twitter
Another issue to consider is that we are not sure when the virus will be controlled. Maybe it will be by 2022. Until then, a further fall in demand, and more job losses cannot be ruled out. By the time the recovery starts, the hole may be too huge to fill and growing income inequality may increase anger and resentment against the system. If the middle class also gets gripped by the fears of uncertainty and social decline, it is likely to cause more demand destruction, political instability, and send the economy hurtling down.
Work from Home (WFH)
Enough has been spoken about WFH and further elaboration is not required. Just one point – WFH will help increase revenues of cloud-based infrastructure and software providers.
Lessons for Investors
1. Invest for the long term in stocks that enable automation (hardware and software). Just make sure that you are investing in technologies that increase productivity and help in making cheaper and sustainable products.
A few companies that enable automation: AeroVironment (AVAV) -makes unmanned aircraft systems; Cognex Corporation (CGNX) – builds machine-vision technologies into products; Rockwell Automation (ROK) – provides industrial automation that increases productivity.
2. Invest for the long term in training institutes that coach automation-related skills, life skills, and other skills that can help people cope with the changing business environment.
A couple of companies into new skills training: Bright Horizons Family Solutions (BFAM) -help discover individual talents and strengths of children, families, and employees; Perdoceo Education (PRDO) – focuses on skills that are directly connected to jobs.
3. Divest stocks of conventional education institutes that refuse to change with the times.
4. Invest for the long term in cloud infrastructure and software providers that help clients become more productive at an affordable price.
A few companies in the cloud space: Microsoft (MSFT), Alphabet (GOOG), Salesforce (CRM), and many others – such companies are driving up the market and need no introduction.
5. Invest in grocery and basic needs stocks that require a lot of manpower. When robots take over, these companies will save a lot of money. Avoid the consumer discretionary sector because it does seem like that demand will take a long time to get back to its pre-COVID-19 levels.
A few companies in the food space: General Mills (GIS), The Kroger Co. (KR), Beyond Meat (BYND).
6. Watch out for widening societal inequalities because large variances in income can cause unrest, which can drag down the economy and the markets.
7. Hope and pray we get a leader who believes in science and technology and takes the country forward with an inclusive agenda.
*Like this article? Don't forget to hit the Follow button above!

Subscribers told of melt-up March 31. Now what?
Sometimes, you might not realize your biggest portfolio risks until it's too late.
That's why it's important to pay attention to the right market data, analysis, and insights on a daily basis. Being a passive investor puts you at unnecessary risk. When you stay informed on key signals and indicators, you'll take control of your financial future.
My award-winning market research gives you everything you need to know each day, so you can be ready to act when it matters most.
Click here to gain access and try the Lead-Lag Report FREE for 14 days.
Disclosure: I/we have no positions in any stocks mentioned, and no plans to initiate any positions within the next 72 hours. I wrote this article myself, and it expresses my own opinions. I am not receiving compensation for it (other than from Seeking Alpha). I have no business relationship with any company whose stock is mentioned in this article.
Additional disclosure: This writing is for informational purposes only and Lead-Lag Publishing, LLC undertakes no obligation to update this article even if the opinions expressed change. It does not constitute an offer to sell, a solicitation to buy, or a recommendation regarding any securities transaction. It also does not offer to provide advisory or other services in any jurisdiction. The information contained in this writing should not be construed as financial or investment advice on any subject matter. Lead-Lag Publishing, LLC expressly disclaims all liability in respect to actions taken based on any or all of the information on this writing.